ComplianceTech will host a free webinar on February 9, 2023, at 3:30 PM Eastern. Join us for a conversation about Section 1071 including expert guidance related to small business data collection and reporting.
Topics will include:
A. Understanding the 1071 proposed rule and the data elements
B. High-level Comparison of 1071 to HMDA
C. Conducting a Data Needs Assessment or data inventory
D. Data quality issues
E. Introduction to ComplianceTech 1071 Small Business Solution
Access the Recording: Small Business Data Collection and Fair Lending Analysis Webinar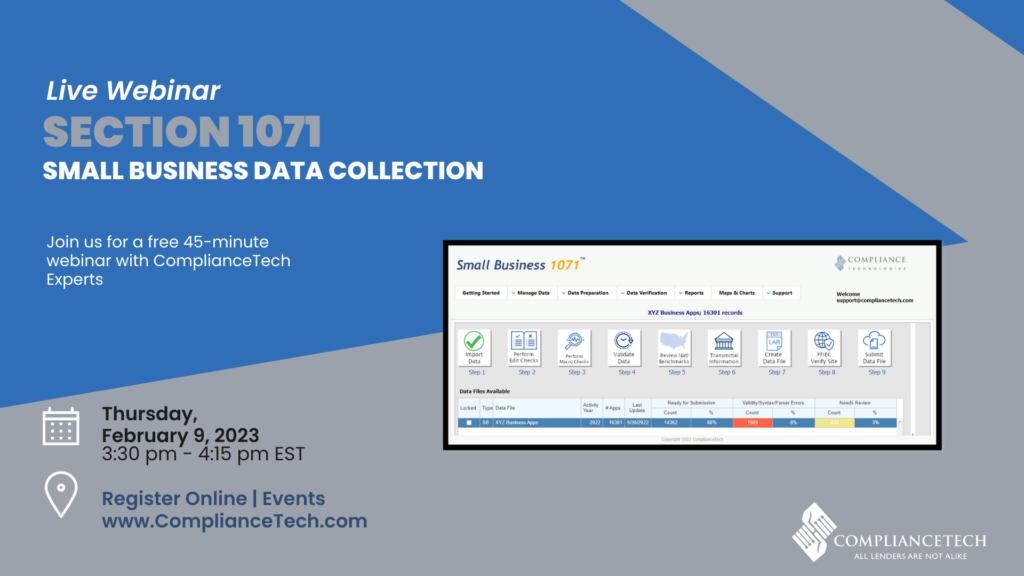 ComplianceTech, founded in 1992, provides fair lending web-based solutions and consulting services. Our industry-leading Suite for mortgage, consumer, and small business lending includes LendingPatterns™, Fair Lending Magic™, HMDA Ready™, CRA Check™, and Fair Servicing™. We are committed to offering free, fair lending webinars throughout the year.
Be sure to download our Venn diagram comparing HMDA and Section 1071 Small Business Lending.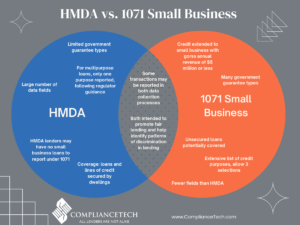 HMDA vs. 1071 Small Business Lending Free Download