Here's an observation worth considering: A low denial rate irrespective of prohibited bases does not in itself ensure that denial disparities by prohibited bases will disappear.
In fact, that low denial rate could be a warning that other issues exist, and if the denial rate is low enough, it would be a red flag that should be a cause for concern.
A low denial rate could be evidence of:
Coding errors: Historically, some lenders have had problems with using the correct Home Mortgage Disclosure Act (HMDA) action taken code depending on the circumstances. In particular, denials and withdrawn applications are sometimes confused with each other.
Prescreening—deterring unqualified applicants from applying. This could be a fair lending risk if it adversely impacts prospective applicants on a prohibited basis.
Granting too many underwriting exceptions and possibly not tracking who benefited from those exceptions
Avoiding ECOA by not issuing the required notifications (trying to mask potentially higher denial rates for minorities)
Taking on too much risk (approving anyone that comes through the door)
Applying an excessively narrow definition of what is classified as an application for HMDA purposes—in other words, the lender could be employing a definition that falls outside the realm of the mainstream and cannot withstand regulatory scrutiny.
What Does the 2020 HMDA Data Show?
The overall denial rate for all lenders (excluding pre-approval denials) was 12.56%. However, the denial rate varied by type of institution. See the chart below for denials rates for Independent Mortgage Companies, NCUA Insured and Banks & Thrifts.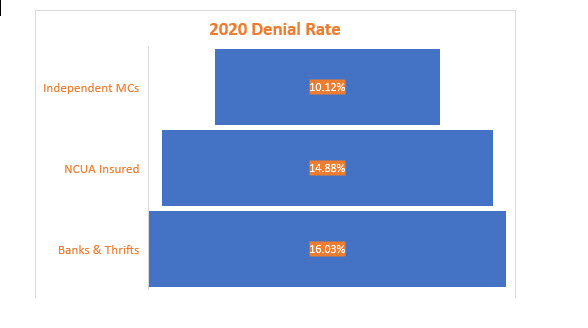 It's not uncommon for institutions to have denial rates between 5% and 10%. However, a denial rate below 5% would prompt some concern, and that would be something that compliance staff should be able to explain.
We can help you monitor and evaluate your fair lending risks. The ComplianceTech Suite of popular fair lending software products include:
If you're not sure which fair lending software suits your organization's needs best — or whether you need more than one solution — request a demo so you can experience the features that come with each option.