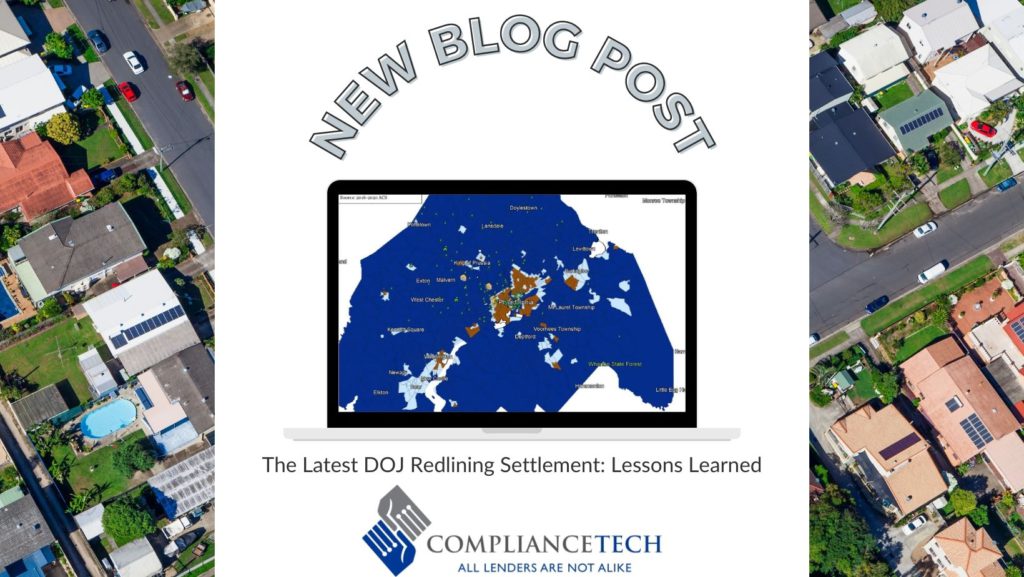 The US Department of Justice (DOJ) announced its Combatting Redlining Initiative in the fall of 2021.  Each redlining settlement provides a roadmap for lenders to follow to ensure that lending activity is adequately monitored.  Of utmost importance is ensuring that if a problem is identified, there is an action taken, and the issue is not ignored. 
Summary of DOJ Settlement [ESSA Bank & Trust – May 31, 2023]
The recent announcement shows that the Department of Justice continues to monitor lending activity over time to establish a pattern of redlining. According to the complaint, from 2017 to at least 2021, ESSA Bank & Trust was involved in redlining practices in the Philadelphia-Camden-Wilmington metropolitan area. These practices avoided granting home loans and mortgage services to predominantly Black and Hispanic neighborhoods within the bank's designated lending area. ESSA also engaged in actions to discourage potential applicants from seeking credit in the Philadelphia area.
Compliance Roadmap: Safeguarding Against Redlining
Proper monitoring and action: Lenders should ensure that lending activity is effectively monitored. If a problem is identified, action should be taken to address the issue rather than ignoring it. The DOJ continues to monitor lending activity over time to establish patterns of redlining.
Branch analysis and knowledge of lending area: Lenders need to conduct a thorough analysis of their branches and be familiar with their lending areas. This includes assigning sufficient loan officers to adequately serve branches in all neighborhoods, including majority-Black and Hispanic neighborhoods. Disregarding specific neighborhoods in marketing and outreach activities can contribute to redlining practices.
Inclusive programs and eligibility criteria: Special programs to increase homeownership opportunities should be designed to help everyone, including low-income and moderate-income households in minority neighborhoods. Exclusionary policies or eligibility criteria that restrict participation based on the location of properties can lead to discriminatory practices.
Awareness and response to redlining risks: Lenders should pay attention to third-party reports or indications highlighting the absence of mortgage-lending activities or loan applications from specific neighborhoods, particularly minority communities. Knowledge of redlining risks should prompt lenders to address the issues identified proactively.
Collaboration with regulators: Regulators play a crucial role in identifying and investigating redlining practices. Lenders should collaborate and cooperate with regulatory bodies during examinations and analyses. Understanding the boundaries of their Community Reinvestment Act (CRA) assessment area is essential to ensure compliance and avoid potential redlining violations.
Merger Analysis: It is important to study the impact of a bank merger on your redlining risk. If you acquire branches from another lender, look at the branches' locations and identify any impact on your bank's assessment area delineation.
By implementing these proactive measures, lenders can protect themselves from potential enforcement actions by regulatory bodies such as the DOJ and other regulators.
ComplianceTech is a Trusted Fair Lending and Redlining Expert
We are trusted experts in redlining mitigation, equipped to assist you in assessing your risk and providing practical advice tailored to your needs. Request a confidential meeting today with one of our experts.