Welcome to the webinar: Navigating Fair Lending: Insights into Risk Assessments and Monitoring for Credit Unions! We will address the following topics during the July 18, 2023, webinar at 1:30 PM Eastern Standard Time.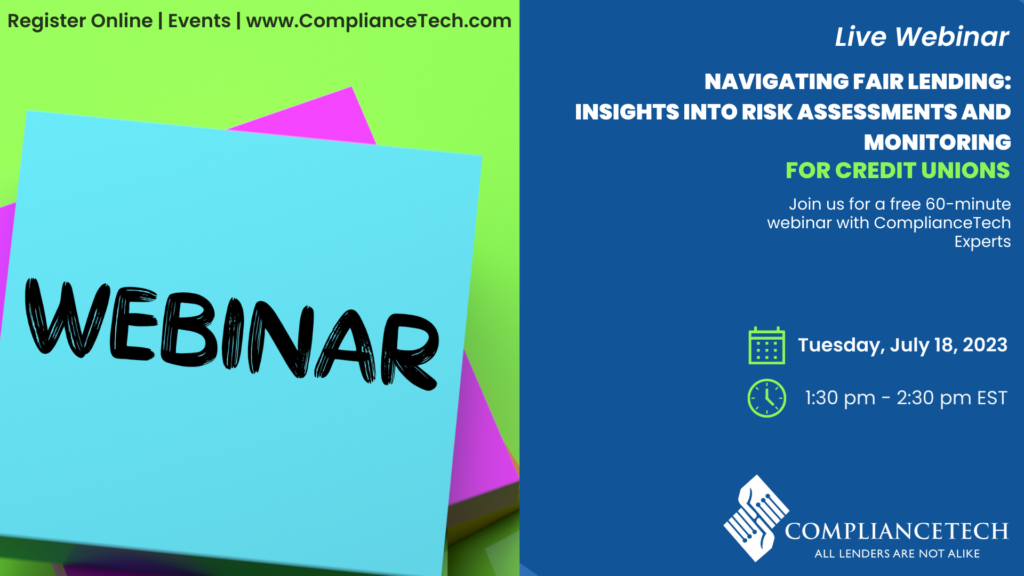 Fair Lending Hot Topics for CUs
In today's regulatory environment, credit unions face increasing scrutiny regarding fair lending practices. Join our insightful webinar to stay ahead of the curve and gain valuable guidance on navigating this complex terrain. Learn about key fair lending topics and how they impact credit unions, helping you maintain compliance and build member trust.
Fair Lending Risk Assessments: Enhancing Compliance
Maintaining compliance and avoiding potential pitfalls requires thorough, fair lending risk assessments. Our experts will guide you through the process, tailored specifically to credit unions. Learn how to identify areas of concern, evaluate your institution's fair lending performance, and implement effective risk management strategies. Gain insights into risk assessment methodologies and practical tips for enhanced compliance.
Identifying Fair Lending Risks (HMDA): Unveiling Insights
The Home Mortgage Disclosure Act (HMDA) is pivotal in fair lending compliance for credit unions. Join us as we delve into HMDA requirements and explore the key data points that can reveal fair lending risks. Understand how to analyze your HMDA data effectively, identify potential disparities, and address lending patterns. Discover best practices for ensuring compliance with HMDA regulations and promoting fair lending practices.
Closer Look at Auto Lending Analysis: Mitigating Risks
Auto lending presents its own unique fair lending challenges. Gain valuable insights into the factors contributing to potential disparities and discriminatory practices in auto lending. Learn how to leverage data analytics and statistical techniques for comprehensive analysis. Discover proactive strategies to mitigate risks and promote fair lending within your credit union's auto loan portfolio.
Q & A: Your Specific Concerns Addressed
We value your participation and want to address your specific concerns. Engage in our interactive Q & A session, where our experts will answer your fair lending questions. Seek clarification on regulatory requirements or gain guidance on implementing effective monitoring strategies tailored to credit unions. Our panel of experts is here to provide valuable insights and practical solutions.
Don't miss this opportunity to deepen your understanding of fair lending risk assessments and monitoring strategies designed for credit unions. Register now for our webinar: Navigating Fair Lending: Insights into Risk Assessments and Monitoring. Secure your spot today and join us on July 18, 2023, at 1:30 PM EST.
Note: Limited spots are available. Reserve your seat early to avoid disappointment. Gain the knowledge you need to navigate fair lending successfully.
You can access the recording: Webinar Recording Link