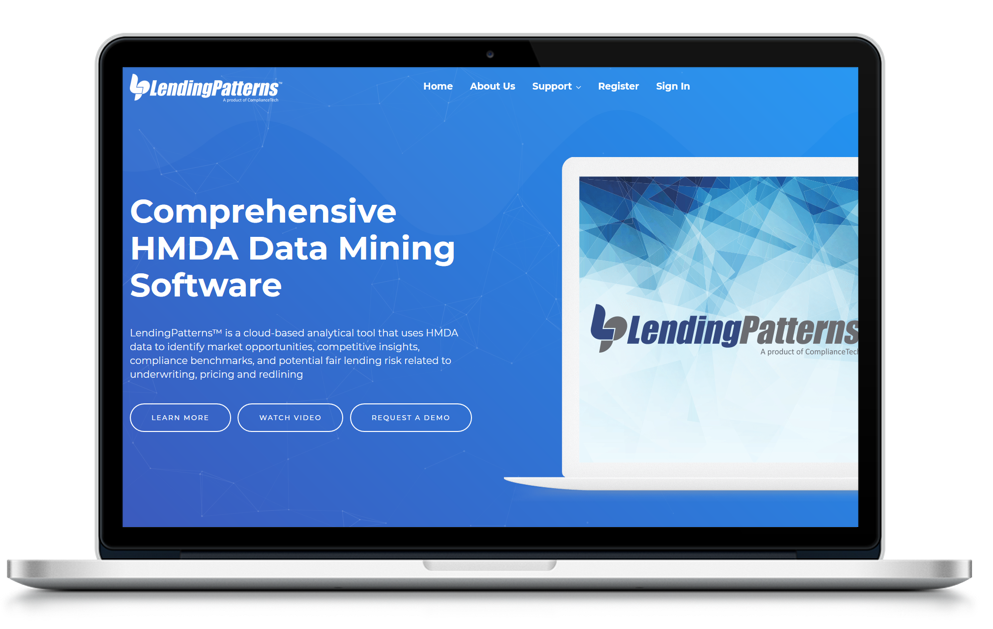 ComplianceTech Announces the Refresh of the Home Mortgage Disclosure Act Data in LendingPatterns to Include 2021 Data
ComplianceTech today announces the refresh of the Home Mortgage Disclosure Act (HMDA) data in LendingPatterns™ to include the 2021 data as published by the CFPB on March 24, 2022. Using the 2021 HMDA data from every lender in the U.S., LendingPatterns™ can pinpoint fair lending issues related to underwriting, pricing, steering, and redlining. Geographical analysis options include, the entire U.S., metro areas, state, county, city, congressional districts, and lender's CRA assessment areas.
Interesting Facts
There are 4,186 lenders reporting data for 23.2 million applications in 2021, a drop of 6.6% in HMDA reporters. This compares to a 2% volume increase by count and a 7%-dollar volume increase over last year.
The number of applications from White borrowers decreased by 3.5%. Conversely, applications from Black, Hispanic, and Asian borrowers increased by 17%, 10%, and 4%, respectively.
The volume of home improvement transactions jumped 15.8% from 2020. Refis fell negligibly.
The top 5 MSAs with the most home improvement lending rank as follows: Phoenix, Atlanta, Los Angeles, D.C. and Denver.
Applications from applicants who selected both male and female for their gender increased by 19% over last year.
The share of applications for the 126 institutions with $10+ billion in assets (CFPB reporters) is 19.4%.
The likelihood of an application being originated ranges from 62% to 65%, with Credit Unions on the low-end and Banks performing the best.
The top 5 MSAs with the highest frequency of Low- and Mod-Income (borrower and/or tracts) originations are: Rochester, MN; Cedar Rapids, IA; Michigan City-La Porte, IN; Evansville, IN-KY; and The Villages, FL.
Lenders report the difference between the annual percentage rate charged the borrower and a federally published benchmark rate. This difference, called "HMDA Spread," only varied by 9 bps for 1st liens by lender type. For 2nd liens the spread ranged between a low of 75 bps charged by Independent Mortgage Companies and a high of 113 bps charged by Banks.
Credit Unions have the lowest average total loan costs while Independent Mortgage Companies have the highest, for fixed rate conventional-conforming, 1st lien residential owner-occupied loans home-purchase originations.